SURF PREPARATION IS INCOMPLETE WITHOUT FUNCIONAL TRAINING
FUNCTIONAL SURF TRAINING
If you like to train for surfing – Functional Surf Training is a great way to improve your fitness and prepare for surfing perfectly. You will build up strength and endurance, flexibility and coordination.
FUNCTIONAL SURF TRAINING
Training for Surfers who want to improve their fitness level for surfing! 
Progressing and improving in surfing is often a slow task because of the frequency of baths, living far from the sea or simply because of the little time spent on a wave. You want to work on your surf skills, but there are no waves? Then you should try our Functional Surf Training.
Functional training is a training method in which the different muscle groups are not trained in isolation, but are trained in different movement patterns. By training in muscle chains (muscle groups) improves their collaboration and thus the performance and functionality for surfing.
The musculoskeletal system consists of muscles, ligaments, tendons, as well as bones and joints, which, under the control of the central nervous system, react as a unit to stimuli. When we train individual muscles together, we prepare the body for complex movement patterns of surfing.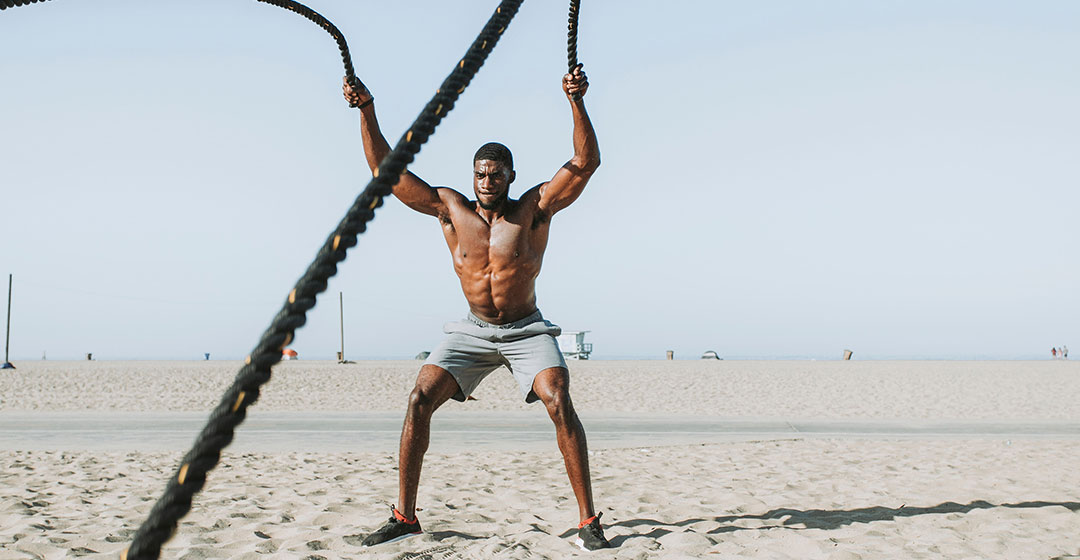 FUNCTIONAL TRAINING FOR SURFERS
In order to train the central processing and motor reaction to inner and outer stimuli (sensor motorics), we train with specific movement patterns. Funcional training means training against gravity. The more economical and safer a movement is performed while exercising, the safer this movement will then be subsequently carried out in the water.
With appropriate stabilization training through dynamic and static components, the joints are better trained in proper motion designs. Important exercises are squats, pushups or rowing. The classics that we pass on to you with motivation and joy.
Properly executed and dosed, Funcional Training's complex training exercises protect the healthy musculoskeletal system from damage and enhance the functionality of surfing.
"Funcional Surf Training with a focus on Strength, Balance, Agility and Flexibility will help you to surf better, stronger and more efficient!"
Instead of device training in the studio, you will not find isolated excercises, but an integrated and complex training in muscle chains in which you will have to stabilize your body yourself.
WHAT IT IS IT ALL ABOUT – Why Functional Surf Training?
1. WITH FUNCTIONAL SURF TRAINING WE WORK ON YOUR ABILITY TO REACT
The ability to react plays, in addition to the ability to balance, probably the most important role in everyday life and surfing. It includes the ability to give the right muscular response as quickly as possible to a stimulus. In our Functional Surf Training we train the ability to react in practical exercises, which we can then implement in surfing.
2. WITH FUNCTIONAL SURF TRAINING YOU WILL WORK ON YOUR ABILITY TO ANTICIPATE
The ability to anticipate describes the ability to anticipate situations in order to then react to the corresponding action. Coordinative abilities are the nuts and bolts and are trained by us in Functional Surf Training. A better ability to anticipate in conjunction with the conversion ability helps you to adapt and react more quickly to specific situations in the water and to make the right decision in certain sections of the wave.
3. IMPROVE YOUR INTRAMUSCULAR COORDINATION WITH FUNCTIONAL SURF TRAINING
Surf training focuses on the interaction of nerve and muscle and the interaction of the muscle fibers within the muscle in the intramuscular coordination. The aim is to activate the optimal number of muscle fibers in a muscle.
"Maximize your time in the Water with our functional surf training and surf at your highest level!"
It does not matter age, shape, weight, height – we do not judge. You are here for one reason and for one reason only: To reach your goals! To become the best version of a surfer you can be. We are here to assist you along your path. We will prepare you as good as possible and are happy to listen to your success stories of surfing!
5. ENHANCE YOUR MOBILITY WITH FUNCTIONAL SURF TRAINING
This program convinces with its manifold benefits: Through special fascia training and various stretching methods, tensions are released through training without equipment, pain is reduced and freedom of movement is improved. In addition to the focu son mobility, we strengthen your body and guide you through strength and simple compass methods. Ideal for all beginners or as a medical training suitable. Focus: increase mobility, reduce pain and prevent injuries!
6. EXTEND YOUR RANGE OF MOTION & YOUR MOVEMENTS WITH FUNCTIONAL SURF TRAINING
This program focusses on movements: You will train with your own body weight and usually without equipment used. Improving your posture and developing strength and endurance are also part of our innovative training method. The focus lys on: Improving your posture, optimize specific movements and boost fat burning!
7. TRAIN YOUR STRENGTH WITH FUNCIONAL TRAINING
Strength is a key factor for surfing, this is why a focus always lys on the development of power – sustainable and long term. True to the motto "Train Hard, But Smart!", we will grind your muscles down with excercises that focus on increasing your maximum power. Focus: Increase strength, build muscle and stay healthy, long-term and sustainably fit!
8. FUNCTIONAL SURF TRAINING FOCUSES ON YOUR PERFORMANCE LEVEL
For those who want to train with the highest possible intensity or who would like to compete in the group with others! In addition to a mobility and movement part, this functional full-body workout with targeted strength training in circular mode guarantees unique success – no pain, no gain! Focus: Total body workout, optimize performance, and increase your surfing power.
WHAT do you SAY?
We are looking forward to posting your smiley face with a little quote instead of our lovely ladies one day. Hit us up with your comments and send us pictures of your success. If you are happy – feel free to spread the word. If you are not – please let us know in private and give us a chance for improvement!
"The Funcional Surf Training was tough but worth it. I was sweating a lot and could not move anymore after the training. The coaches were great and got the best out of me! I will be back!"
"I had an awesome full body workout on the beach with coach Dani. He really pushed me to my limits and I was happy with the high intensity training!"
What do I need to bring?
Training clothes, towel, shoes and water would be a good thing. We will provide you with all the material you need for a session.
How much does a class cost?
One Functional Surf Training Session costs 20 € for a group and 60 € for a private session.
Where do the classes take place?
Our classes will be given in different locations in our studio or outside in El Cotillo. We will find the best spot of the day for your.
I have no experience at all - Can I come?
Our Functional Surf Training Sessions are designed for any level. Either you are an absolute beginner or an intemediate, Functional Surf Training will speed up your surfing and helps you to improve significantly.
Bigger.Faster.Stronger
SURF TRAINING CENTER
OFFICE HOURS
 You will find us in the FreshSurf Surfschool Office in El Cotillo!
Mon. – Sat.: 9 am – 14 pm & 17 pm – 18 pm
Sun.: closed
GET A LITTLE SURPRISE ON YOUR FIRST SURF SKATE TRAINING WITH US!