Since 2019-young and hungry for more
About Us
We are some ocean and training minded guys who want to inspire you. We want to accompany you on your way of surfing and spread positive Vibes and Joy along the way. 
Our SURF TRAINING CENTER
As you can see in the video, there are 1000 ways to train for surfing. Surfing is so much more than to prepare your body. You have to work on your attitude, your mind and sometimes you need to overcome a lack of motivation.
We take it into our hands to give you a little extra motivation. We want you to be the best surfer you can be. To reach this goal, we offer you a beautiful playground in our studio with great material to train and improve your surfing.
We are a young team and about to start our journey to reach for the stars. We know it needs hard work and dedication to reach goals – but together we can make it!
YOU CAN REACH YOUR GOALS – THE JOURNEY STARTS TODAY
Our Dry Surf Equipment as well as our surf skates are excellent for beginners and advanced surfers. It offers greater stability than a surfboard, helps with the improvement of your balance and to assimilate the right body posture to be taken on the board.
Popular GOALS
Improvement of balance
Generating more speed
Correct positioning and stance
Surfing with style
Speed up and intesify muscle memory and motor learning
Tighter turns and a better technique
Better carving abilities
Identification and correction of mistakes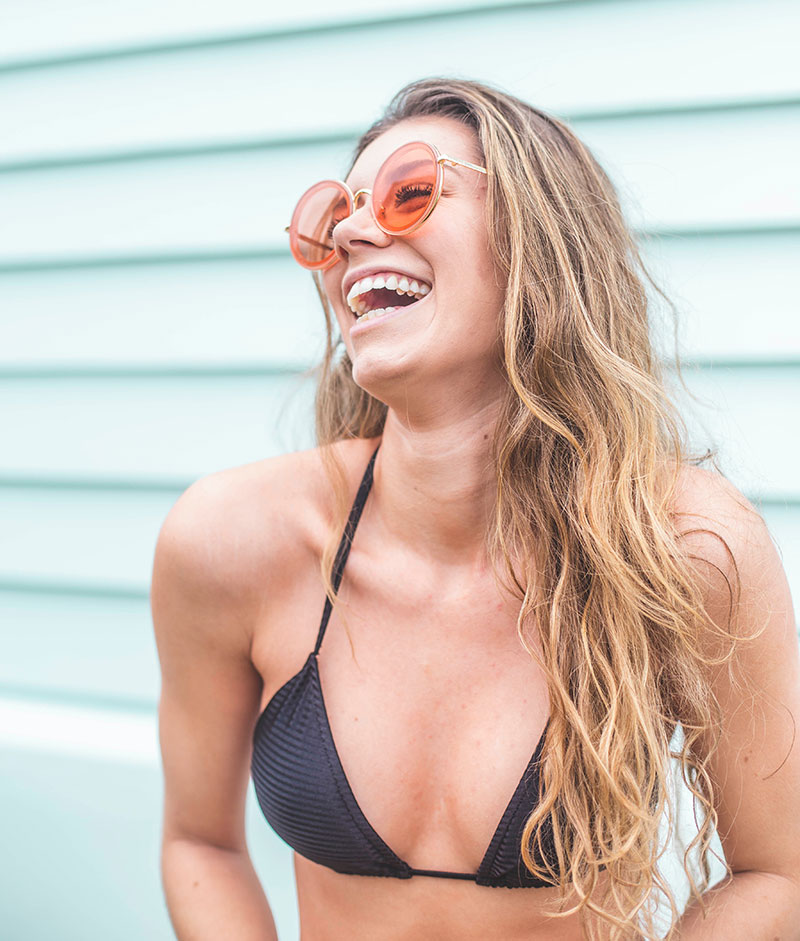 ​"Finally, A TRAINING CENTER Culture Where Everyone is Welcome. BE who you are and share your ideas and laughter with us!"
It does not matter age, shape, weight, height – we do not judge. You are here for one reason and for one reason only: To reach your goals! To become the best version of a surfer you can be. We are here to assist you along your path. We will prepare you as good as possible and are happy to listen to your success stories of surfing!
Real People. Real Results
We are looking forward to posting your smiley face with a little quote instead of our lovely ladies one day. Hit us up with your comments and send us pictures of your success. If you are happy – feel free to spread the word. If you are not – please let us know in private and give us a chance for improvement!
"I had a blast to improve my surfing on your balance boards. I never thought I could learn so much in such a short amount of time. I will be back on Fuerteventura to have another training session with you guys!"
"Sometimes it is a surprise to realize mistakes you are doing over and over again in your surfing. You guys have been really open and direct with your suggestions on how I could improve my surfing and I am greatfull. I caught my first green wave today and I am still stoked!
"Surfing can be so much fun! Comming from crossfit you guys prepared me for my first surf lesson with FreshSurf amazingly. Thanks to you I already knew where to position myself on the surfboard and how to paddle with stability!"
 THIS IS US SURFING
LET US HIT THE WATER TOGETHER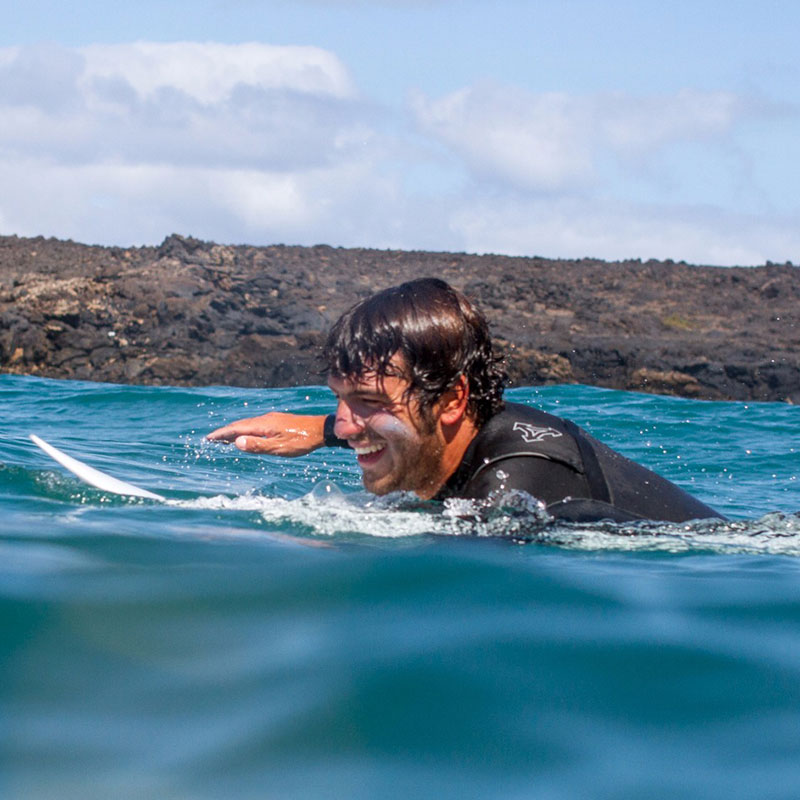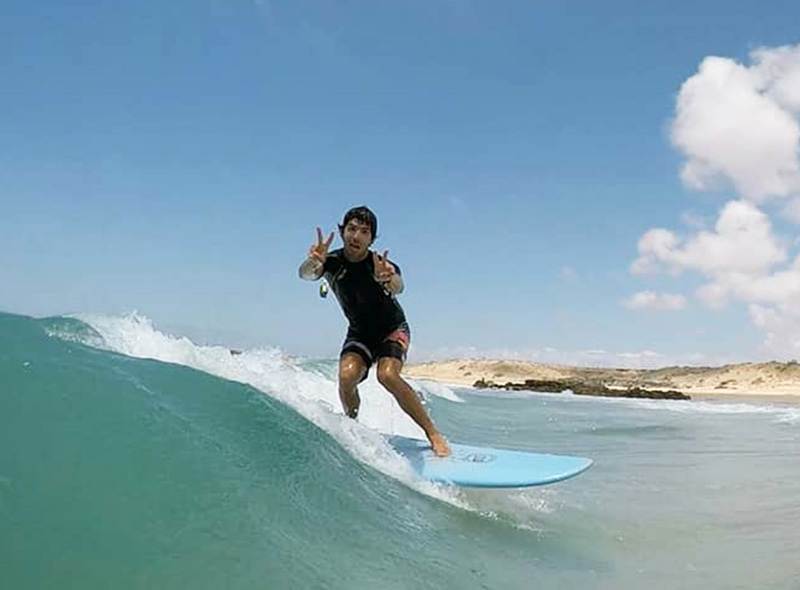 WHY DO YOU WORK HERE?
WE WANT YOU TO GET TO KNOW Us
Dani
Headcoach
"I BELIEVE IN YOU!"
Ciao! I am Daniele and I was born in Italy. I am living on the beautiful Island Fuerteventura – the European Hawaii since 2011. I am a simple person that is happy with small things in life. Within the last years, I discovered my passion for teaching people how to surf. I try to transmit positivity because I believe in you – in each one of you! When I was a child, I had a phobia of the ocean. My uncle started to introduce me to the sea world and surfing and step by step I lost my fears. Growing one with the ocean world, I cannot imagine my life without it anymore.
What is your philosophy of surfing?
"WATER IS MY ELEMENT!"
When I first came to Fuerteventura in 2009, I fell in love with the mystic places around here, the ocean and the energy of the waves. I soon discovered that the island has a karma – people that appreciate the island, they fall in love and they will always come back. This is what happened to me and which is why I moved here two years later. Here I feel free and connected with the ocean and the waves. In my opinion, surfing is nothing comparative. For me there is nothing better than sharing waves with friends and to have a good time in the water. Obviously, I also enjoy to be alone in some mystic secret surf spots. I think that I developed a 6th sense for nature and I have a feeling for the energy of the water and the quietness before the next set is arriving. This is an unbelievable feeling!
With all that being said, I discovered teaching surfing as my contribution to the world. Surfing is not only a physical but also a mental challenge for each one of us. When I teach surfing, I try my best to help you understanding the ocean and the waves. Throughout many experiences, I will guide and lead you. I help you to find the passion for surfing, to improve your skills and to take your surfing to the next level!
Safety is my major priority which is why I not only teach you about surfing but moreover about nature – an unforeseeable element on earth. Being introduced to a continous change of the ocean, the knowledge and understanding of waves, you will be ready for amazing surf sessions in the water.
WHAT IS YOUR SURF OF DRY SURFING & TRAINING?
"DREAM BIGGER, SURF HIGHER"
Your limitation – it´s only in your imagination. Surfing requires an open and free mind as well as the physical and mental ability to stay safe in the ocean. Drysurf training prepares you for how to interact with waves and helps you to gain the required strength and power for surfing.
Within the training you can work on maneuvers because your brain is more likely to memorize the steps and apply them to your surfing. You will gain confidence and improve your surf skills. Dry Surfing is perfect for all different surf levels. Helping you to find the perfect position on the board, working on your explosiveness and mobility – with Dry Surf training you will succeed as fast as possible in surfing.
"Opportunities don´t happen. You creat them." (Chris Grosser)
Get in touch with me and we will take your surfing to the next level!
 THIS IS US SURF SKATING
LET US HIT THE STREETS TOGETHER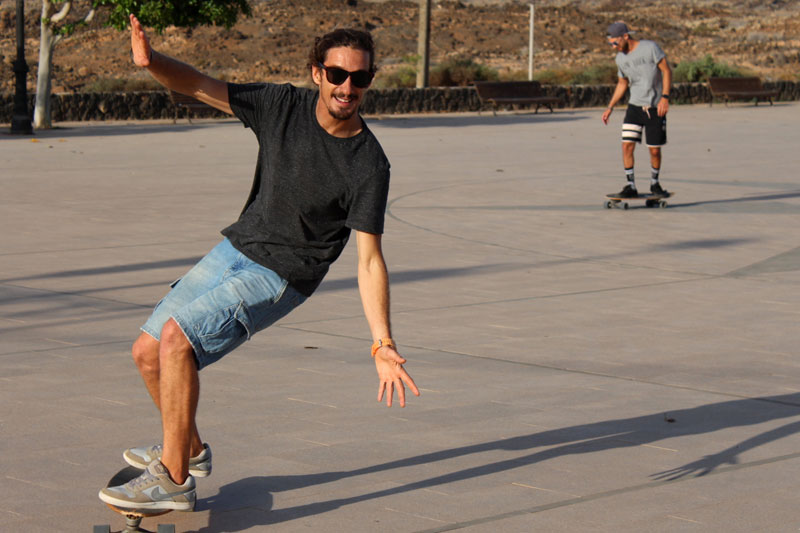 WHY DO YOU WORK HERE?
WE WANT YOU TO GET TO KNOW Us
Jordi
Surf Skate Coach
"YOU WILL BUY A SURFSKATE NEXT WEEK TO CONTINUE SURFING BACK HOME!"
Hi! My name is Jordi and I am a passionate about nature,  surf and the surfskate.As a kid I was jumping from kicker to kicker as a flying squirrel. Now I am on my 30's  and I am a prudent flying squirrel who loves to enjoy the cruise and the movements of surfing. 
I am skating since I have legs. I am still keeping my first skateboard that my mother bought me as a hyper energetic kid. I moved to Fuerteventura in 2012 searching for professional developing. Nowadays I am a surf and surfskate coach specialized in training all levels of surfers. I want to use the surfskate to make you better in your position, your maneuvers and define a fluid & visual style. Join my method and discover how much I can help you. With tons of good and friendly vibes I will take your surf to the next level.
Be aware, if you train surfskate with me, probably you will buy a surfskate next week to continue surfing back home. You are warned ;).
I am Looking forward to seeing you soon and enjoy the surfskate together!!
What is your philosophy of surf SKATING?
"I HAVE TO DO IT WITH PASSION AND EFFORT!"
My philosophy of surfskate it's deeply influenced by my personality. Skating and surfing are only instruments to make me happy. To feel more the air on my face, to enjoy the nature, to talk to interesting people and find the way to get closer to them, to feel body and soul in balance… I learnt from my family that if you really want to do something, no matter what, I have to do it with passion and effort. They supported me from the day #1 on my method and my surfskate project.
Besides of being a devote of surfing and skate always I have been connected with music and theater. Teaching corporal expression and theater in different elementary schools and also performing in a professional percussion band. My father is a teacher, also my sister… I am convinced that in my family runs a  gen that is helping me to be better teacher everyday. I am in this world only for once, as far as I know, and why not spend it teaching the things that I love. And in Fuerteventura gave me that opportunity this is why I am coaching surfers and skaters for more than 8 years.
WHAT IS YOUR SURF SKATE TRAINING ABOUT?
"UNDERSTAND AND TRAIN  CONECTPS OF WHERE YOU WANT TO BE ONE DAY WITH YOUR SURFING
"
How good is to have a wave that never ends to correct your position and your coordination habits. I will guide you to take the best inputs to create more balance in your body and understand the forces that influence the good surfing: speed, vision, position on the board, turns, pumping, movements in space and time, explosivity, changes of your vertical axe…
to sum it up: all the patterns will make understand more and surf more!!! Perfect for all surf levels: beginner, intermediate and advanced surf who wants to surf more and better!
"Make the best out of today – you may only live once!"
Get in touch with me and we will take your surfing to the next level!
Bigger.Faster.Stronger
SURF TRAINING CENTER
OFFICE HOURS
 You will find us in the FreshSurf Surfschool Office in El Cotillo!
Mon. - Sat.: 9 am - 14 pm & 17 pm - 18 pm
Sun.: closed
GET A LITTLE SURPRISE ON YOUR FIRST SURF TRAINING WITH US!